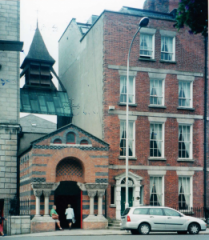 Adjacent to Newman house, at number 87 St Stephen's Green, lies the entrance to the University Church that Newman himself designed with his friend architect John Hangerford Pollen.
It was opened in 1856 as part of the Catholic University and was temporarily attached to the parish of Harrington street before being established as parish church in its own right.
Renowned for the richness and variety of its internal decoration and often used for weddings, it remains a favourite of Dubliners and visitors alike.