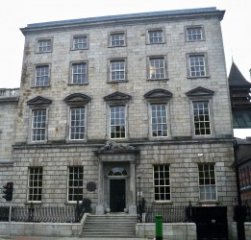 85 St. Stephens Green was designed in 1738 by Richard Cassels, also the architect of Leinster House, the seat of the Irish Parliament.
Noted for its superb plasterwork by the brothers Lanfranchi, it is a fine example of the Palladian style which was popular at the time.
It was acquired by the Catholic University of Dublin in 1864, shortly after Newman left Dublin, and has remained in use since then, being variously used for examinations, engagements and other functions.
86 St Stephens Green was designed by an unknown architect and built in 1765. In the Rococco style, it is much grander and one of the most imposing buildings on the Green. The plasterwork was by one Robert West, the finest Irish practitioner of the the time.
The noted Jesuit poet and educator Gerald Manley Hopkins had rooms here.
The two houses were joined and renamed as Newman House in recognition of the great man's many contributions to learning, life, and faith in Dublin.
The Newman Library is situated here.